Exceptional wedding rings
We humans are diverse, and so are our relationships. No two marriages are alike. For all those who want to seal their marriage with an extraordinary piece of jewelry: Our unconventional wedding rings.
Original wedding rings made in Germany
With attention to detail and the highest quality standards: This is how unique, unusual wedding rings are created in our manufactory.
We look back on many years of experience in the production of exceptional rings and jewelry. A wealth of experience that is reflected in each of our wedding rings.
You have found your dream model? Then let us convince you of our quality promise: Through the Storelocator you can find a jeweler near you where you can try on our wedding rings live!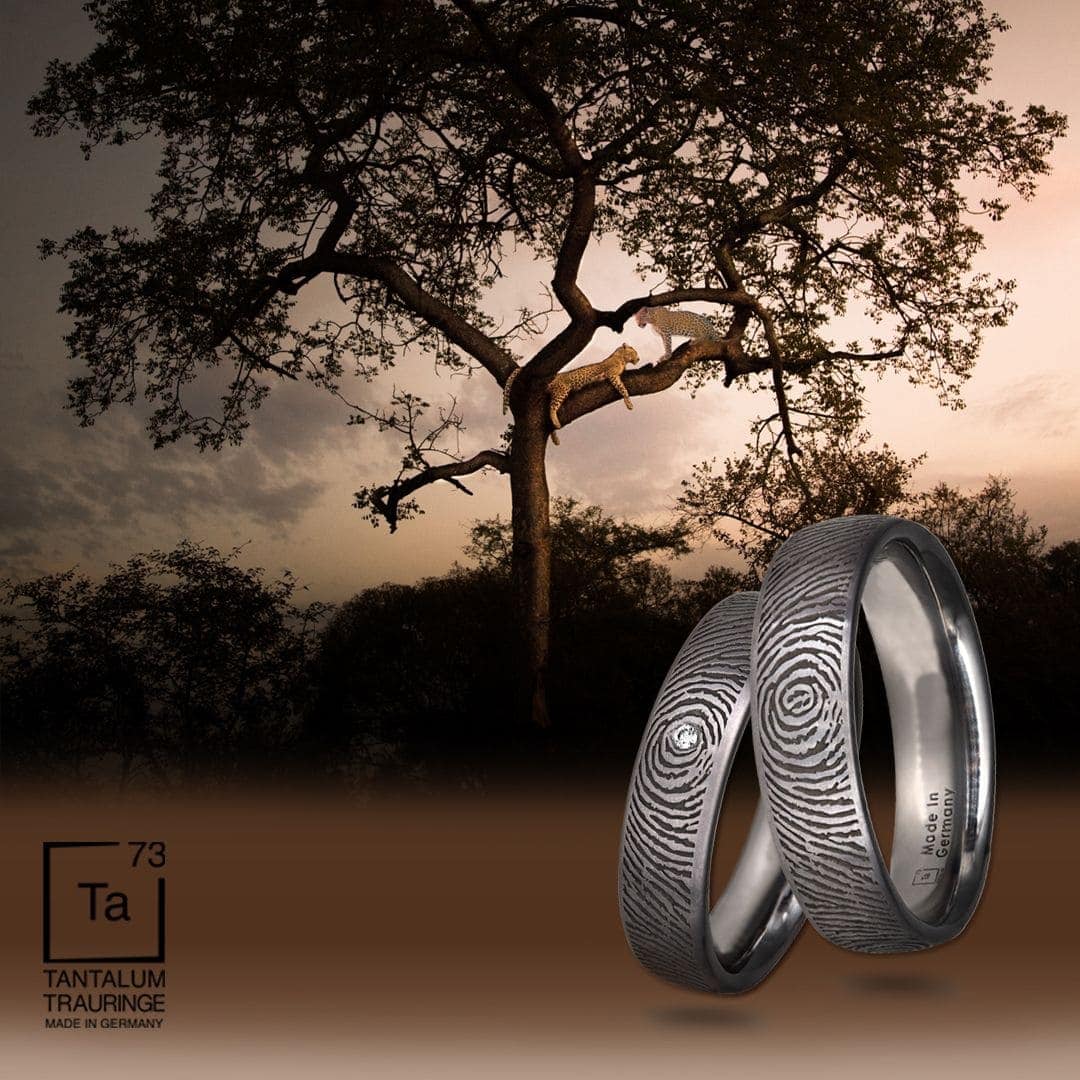 The exclusivity of our jewelry
What makes wedding rings special? Is it the sheer visuals or the symbol of love & bonding what how embody? Our exceptional rings are characterized by much more.
Genuine manufactory work
Each exceptional weddingring and wedding band is handmade in our manufactory. In this process, unique designs evolve with a love for detail and a lot of intuition. Each ring is customized and made for you. Thus, you will receive a unicum. Design your own completely personal rings according to your wishes. Find your trusted jeweler now through our Storelocator and let them consult you about our collection!
Unusual materials
For our wedding rings, we primarily rely on the material tantalum. Tantalum is one of the oldest metals and materials in our solar system. It is a material that carries a piece of eternity. Tantalum is naturally graphite gray, it is a pure metal and needs no allocation.
Tantalum looks great on its own, but also in combination with platinum or gold, yellow gold, rose gold or white gold, it allows diamond inserts to shine and combines strength with elegance in the form of wedding rings.
Individuality in design
Set with diamonds, bicolor or with the fingerprint of the beloved partner: our manufactory for extraordinary wedding rings offers different finishes of the surfaces. This uniqueness turns your rings into a distinctive companion for eternity.
What to look for in wedding rings?
The amount of information about tantalum wedding rings, about precious metals, gold, platinum, and from different products that pile up on a couple often leads to more confusion than clarity.
But don't worry: we'll shed light on the wild thicket of possibilities and enlighten you about products, materials from gold to tantalum, about possibilities, alloying, costs and everything you need to know about the most important symbol for the most beautiful day in a couple's life.
Which material is best for wedding rings?
From gold to tantalum to platinum, there are a number of materials used for fancy wedding rings. When looking for the material for your wedding rings, what counts is what you like and what suits you and your everyday life. In the best case, you get a ring that is still beautiful today and in the distant future and so durable that nothing can harm it.
We also work with gold and platinum, but we mainly create wedding rings from the material tantalum. Why? Simply because tantalum is one of the most durable and robust materials on our planet. It is a metal that is rarer in our solar system than gold and platinum, strong and so durable that it takes high goldsmithing skills to make it.
The price - What should a wedding ring cost?
In terms of price, as with all jewelry, there is a wide range. The price for your individual ring and the piece of jewelry that will accompany you for a lifetime starting from your wedding, is composed depending on the processing, color, choice of stone and diamond and material you choose.
For a fancy ring that will last you a long time and actually become a lifelong companion for you as a couple, you should expect a price of at least 2,000 euros. For more detailed information, please feel free to take advantage of our service, where we will work together to figure out the exact price for your unique wedding ring and what offers we can make to you as a couple.